Local • Healthy • Fresh • Indian • Flavour
Huge Vegetarian, Gluten Free, Celiac & Vegan Menu Options

Voted London's Best Indian Restaurant by LFP Since 2012
Fine Dining – Catering – Patio – City Wide Delivery – Take-out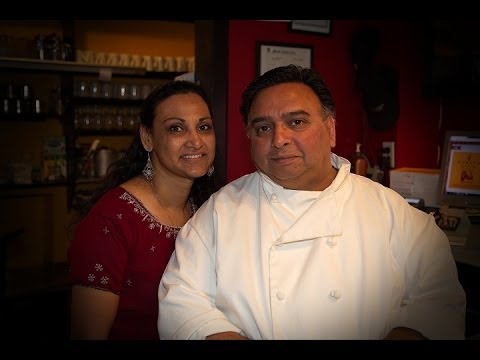 Curry's is a locally owned Indian restaurant in London Ontario, engaging our guests in a discovery of the world of Indian Cuisine and culture. Pramod and Susan have been welcoming Londoners to their dining room over the last 3 decades. Pramod is proud to bring his heritage and love of Indian cuisine to the kitchen. We are happy to have been been preparing, serving delivering  Indian Cuisine city wide since 1985.  Curry's was the first East Indian Restaurant in London ON. Curry's opened with take-out and delivery service only. In 1986 the dining room was added. East Indian cuisine has become more and more popular in London as well as all over the world since.
As owner/operators of Curry's Restaurant since inception, we are proud to be a part of the community in London Ontario for over 30 years. We support events like Signatures a Taste Test of London's Best annually raising funds for Parkinson's research. We love contributing to the end of the Santa Clause Parade volunteer party that takes place in downtown London ON. We are located next to popular Wortley Village on Wellington Road directly on the way to downtown London Ontario.
Indian delivery or takeout is the best choice for freshly prepared, healthy, flavourful Indian food. Pramod has kept a very health conscious kitchen, locally sourcing his supplies as well as personally choosing fresh ingredients. The menu was designed with the diverse palates and sensitive dietary needs of today's diners. We are inspired to serve unprocessed, fresh and healthy Indian food. Curry's flavourful fare is served up in a comfortable and welcoming atmosphere, topped off with exceptional service that will keep our dine-in, take-out and delivery guests coming back!
Cooking With Curry's 
We love to share some of our favourite recipes and how to make them at home. We've put together a short list here for you to view.
If there are any recipes that you would love to share, please feel free to send the link into our facebook page to have your recipe video displayed.
Don't forget to say " Hi " on social media!
Follow us on social media for all the latest updates and news for future events and promotions at Curry's Restaurant!
Have a suggestion or want to get in touch with the owners? feel free to directly message us on Facebook for the fastest response.